State Chapter News
Basic Course in Astronomy – Introduction to Stars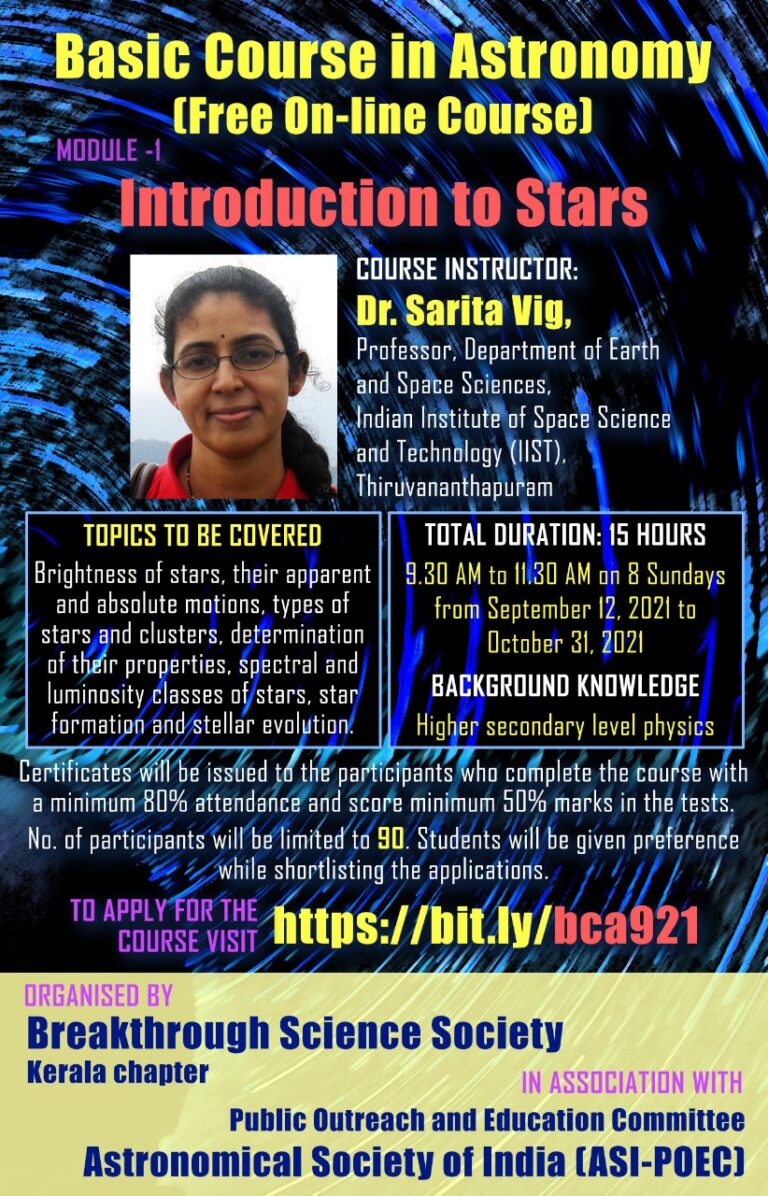 Basic Course in Astronomy (Free On-line Course)
Module -1: Introduction to Stars
Course instructor:
Dr. Sarita Vig
Professor, Department of Earth and Space Sciences, Indian Institute of Space Science and Technology (IIST), Trivandrum
Topics to be covered – Brightness of stars, their apparent and absolute motions, types of stars and clusters, determination of their properties, spectral and luminosity classes of stars, star formation and stellar evolution.
Total duration: 15 hours
9.30 AM to 11.30 AM on 8 Sundays from September 12, 2021 to October 31, 2021
Background knowledge : Higher secondary level physics
Certificates will be issued to the participants who complete the course with a minimum 80% attendance and score minimum 50% marks in the tests.
No. of participants will be limited to 90. Students will be given preference while shortlisting the applications.
Organised by
Breakthrough Science Society, Kerala chapter
in association with
Public Outreach and Education Committee – Astronomical Society of India (ASI-POEC)
Webinar – Foundational Insights: The Life and Work of Steven Weinberg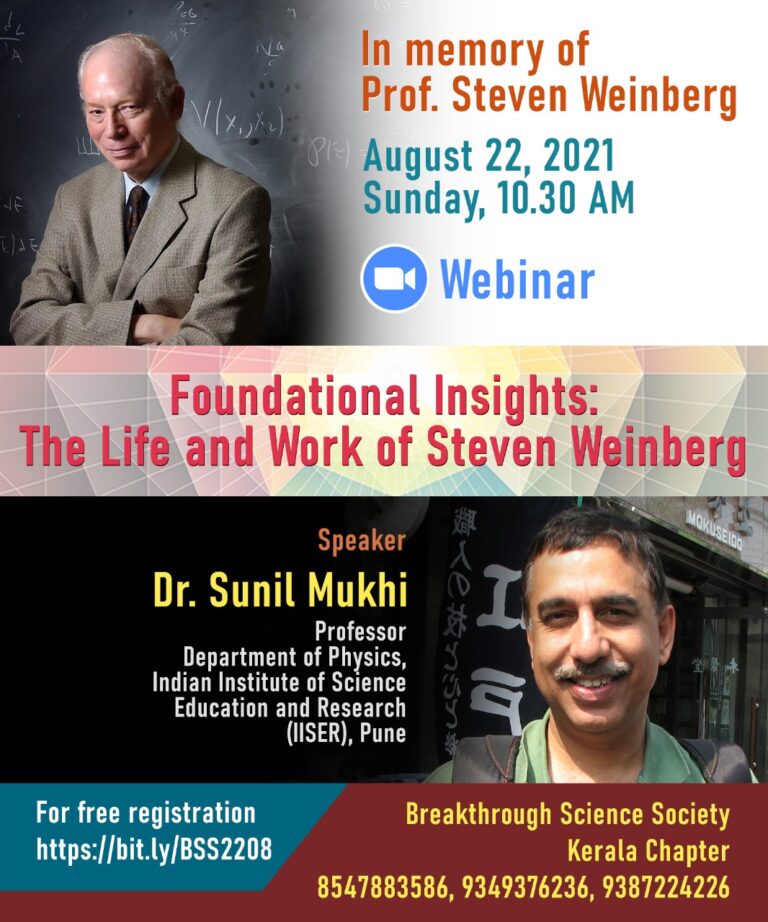 The YouTube link of the webinar titled 'Foundational Insights: The Life and Work of Steven Weinberg' by Dr. Sunil Mukhi, Professor, Indian Institute of Science Education and Research (IISER) Pune, is given below. https://youtu.be/IT89tMIscQ4
We would also request you to subscribe to this YouTube channel and tap the notification bell so that you will be notified whenever we upload a video in the channel.

We look forward to your participation in the future programmes of Breakthrough Science Society.

With regards
Breakthrough Science Society, Kerala chapter

Webinar: A Voyage to the Moon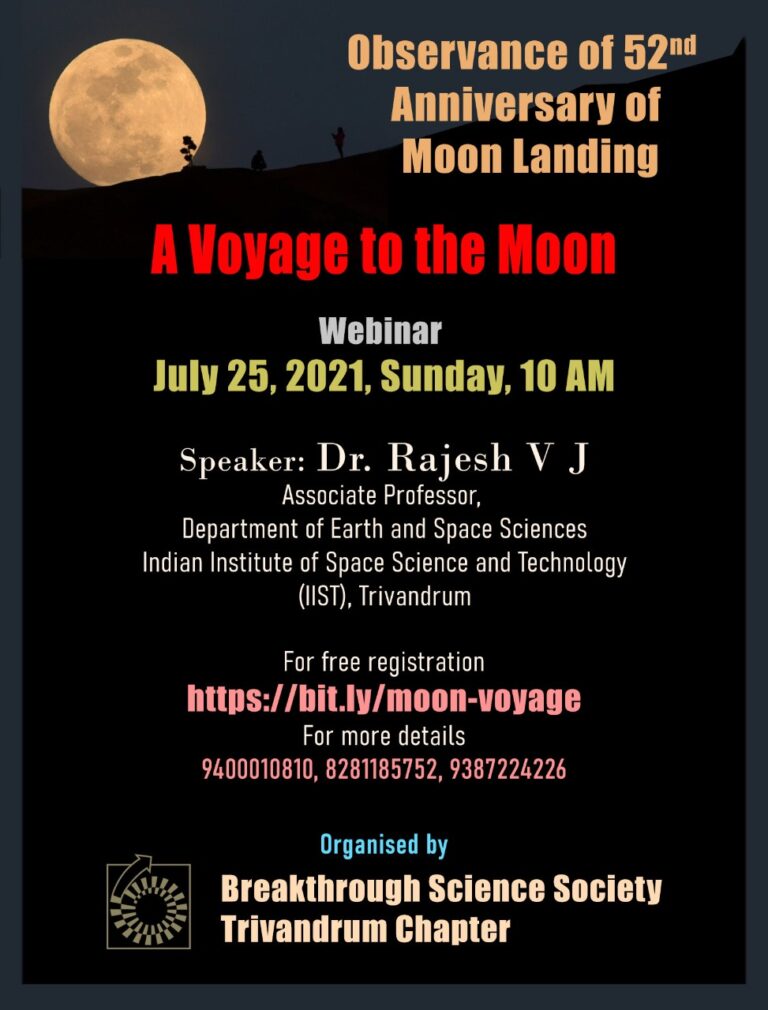 YouTube link of the programme: https://youtu.be/a1oP-GWJlsk
Observance of 52nd Anniversary of Moon Landing
*A Voyage to the Moon*
Webinar:
July 25, 2021, Sunday, 10 AM.
Speaker :
Dr. Rajesh V J, Associate Professor, Department of Earth and Space Sciences, Indian Institute of Space Science and Technology, (IIST), Trivandrum.
To watch the programme on YouTube please click on the link given below:
https://youtu.be/a1oP-GWJlsk

For more details9400010810, 8281185752, 9387224226
Breakthrough Science Society, Trivandrum chapter.
Webinar: 'Ethics of Science'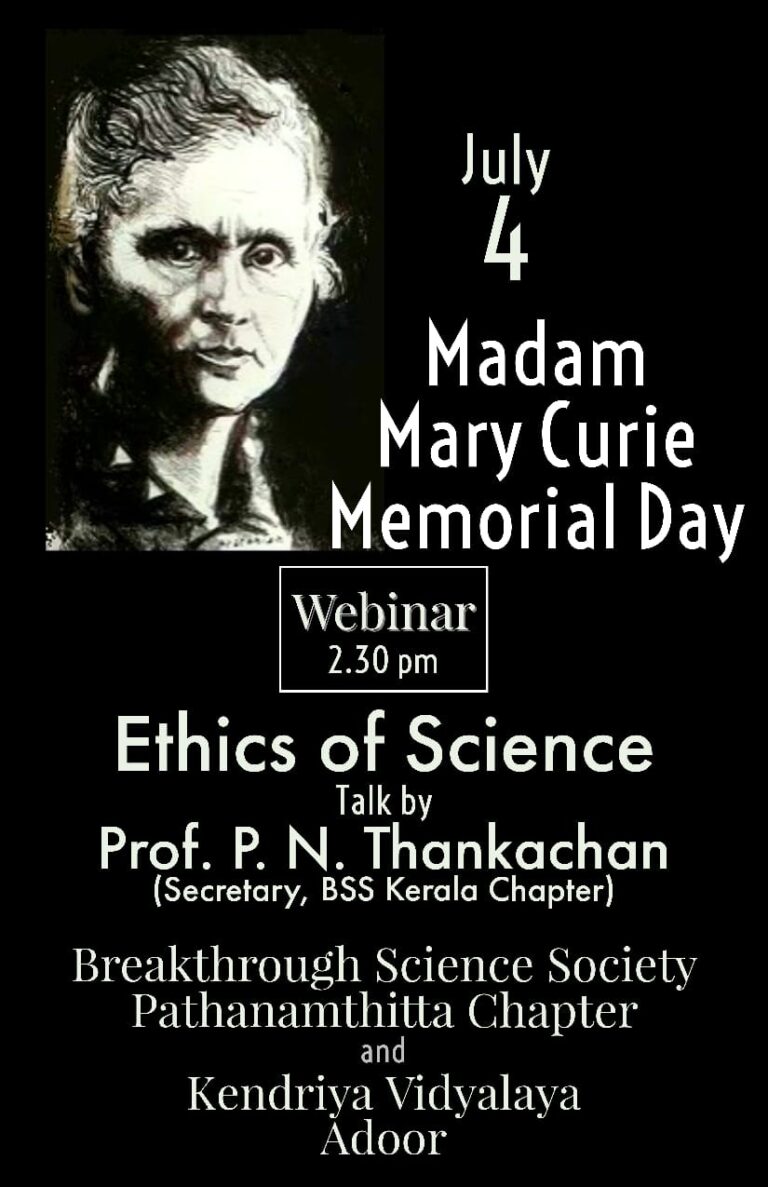 As a part of the observance of Marie Curie Memorial Day, Breakthrough Science Society, Pathanamthitta district chapter, Kerala is organising a webinar on 'Ethics of Science' on July 4, 2021. Speaker: Prof. P.N.Thankachan, Secretary, Breakthrough Science Society, Kerala chapter.
Marie Curie Memorial Programme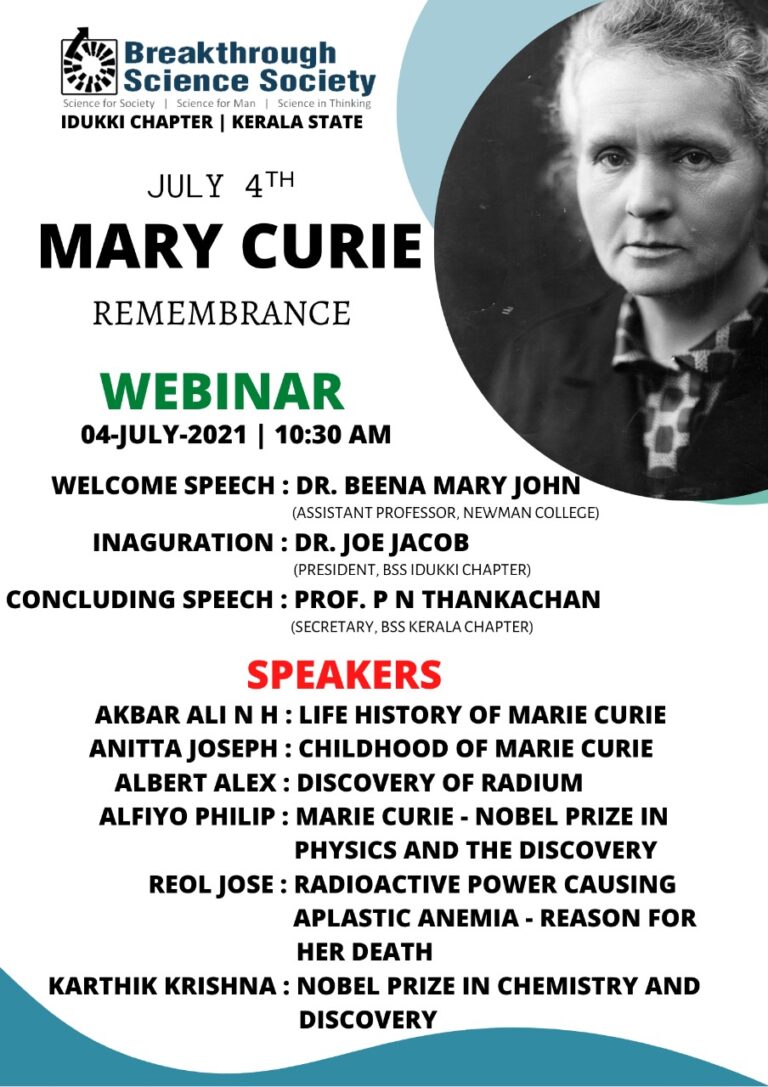 Organised by Idukky district chapter, Kerala
Climate Change and its Impact on Coastal Areas: Webinar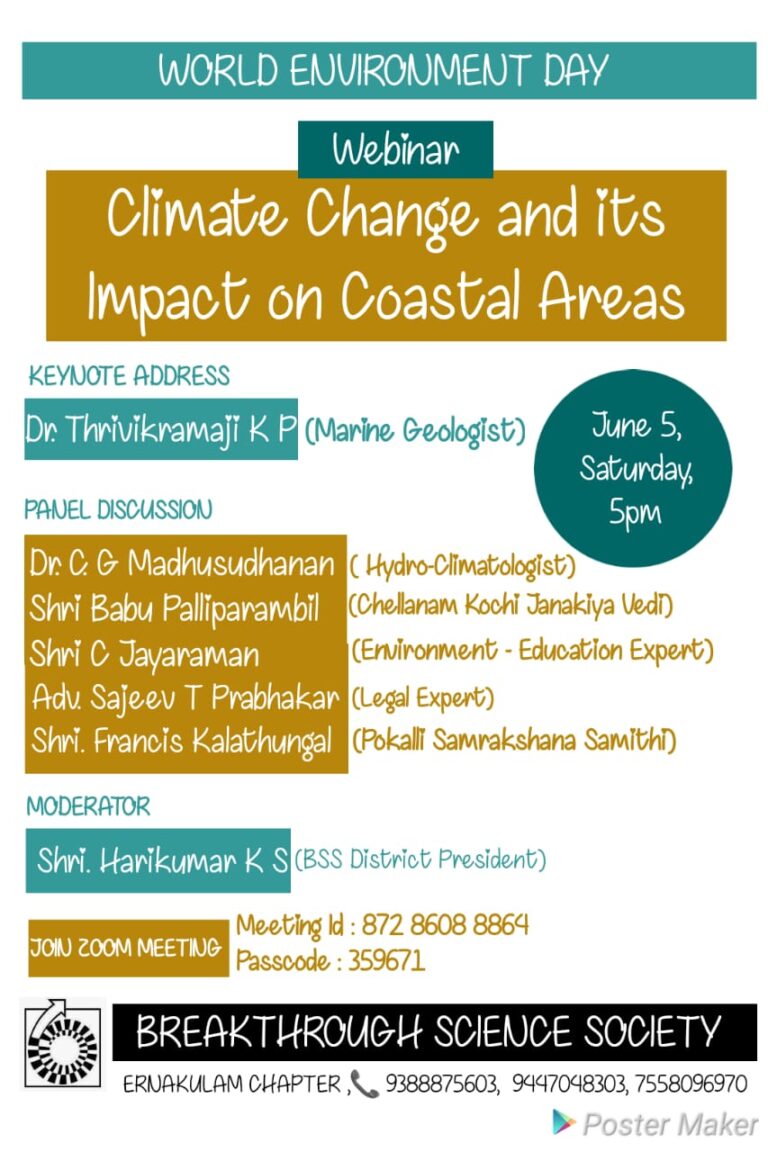 World Environment Day Webinar: Climate Change and Environmental Crisis of Kuttanad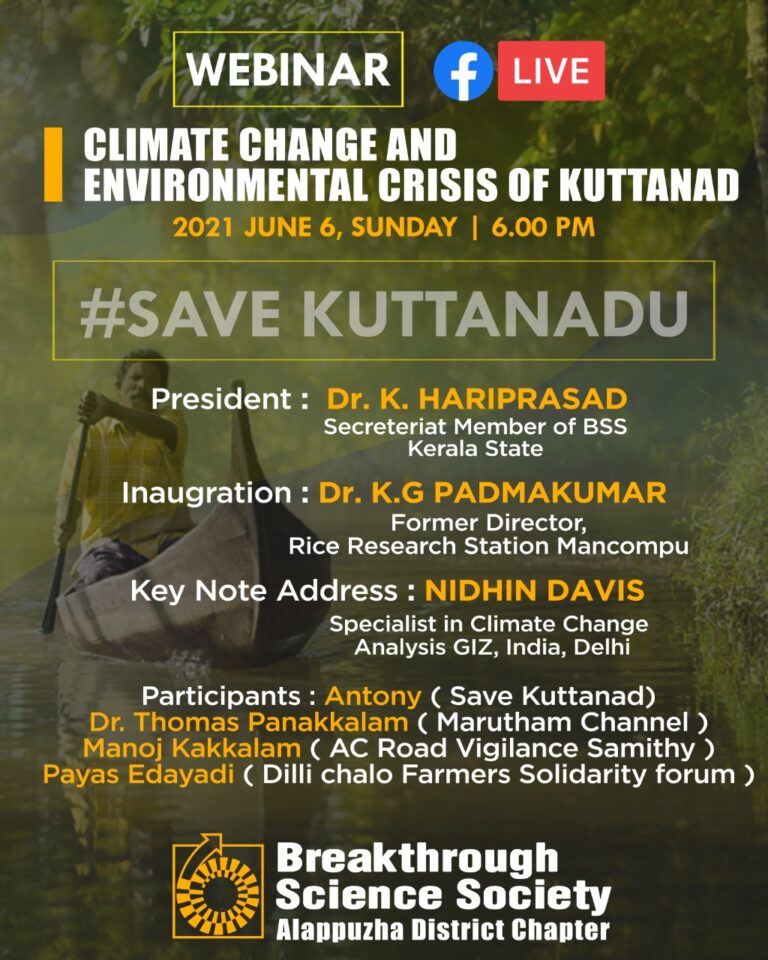 'ചരിത്രം സയൻസിലൂടെ' – GS Padmakumar Memorial Lecture by Dr. Rajan Gurukkal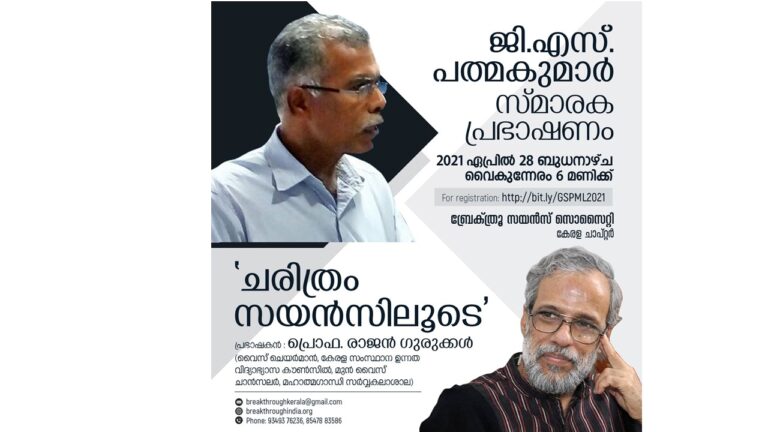 Click on the link below to watch the proagramme in YouTube.
Ban on SCIHUB and LIBGEN will severely impede research activities in India – Prof. Soumitro Banerjee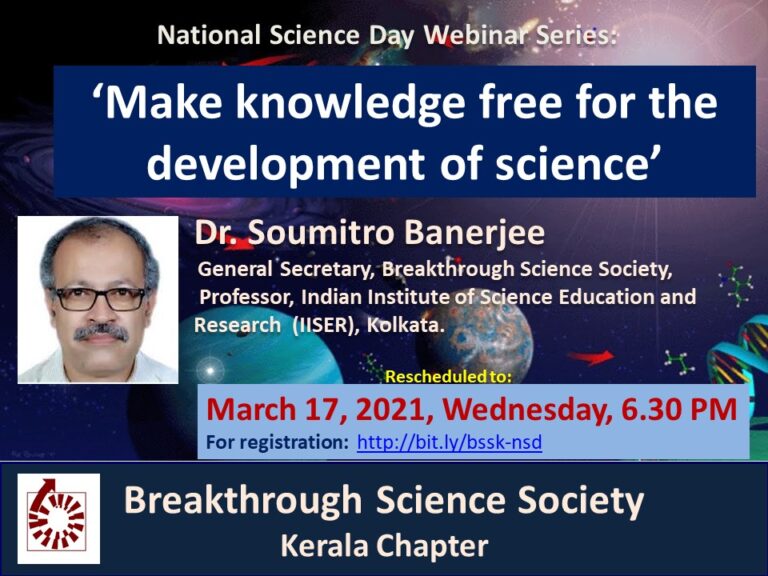 Ban on SCIHUB and LIBGEN involved in free dissemination of scientific documents will severely impede all research activities in our country, said Dr Soumitro Banerjee, professor at IISER Kolkata and General Secretary of Breakthrough Science Society. He was addressing the webinar titled "Make knowledge free for the development of science" organised by the Kerala chapter of Breakthrough Science Society (BSS) on March 17, 2021 as part of the observance of the National Science Day.
Scientific knowledge is undoubtedly a social product, majorly facilitated by the utilisation of tax payers' money. Since late 17th century, the task of dissemination of scientific documents has steadily been carried forward by research publications/periodicals published by science academies. During the infantile stages of organised scientific research, this mechanism played a significant positive role in the progress of science. But the changes in the socio-economic conditions of modern society have created a situation in which the market forces have taken control over the publication of scientific papers and the original creator of scientific knowledge is put at the mercy of the publisher. A few publishers have emerged as monopolies in this field and in the process it is these firms which control the distribution of research publications in the world. These publishers make huge profit by selling the research papers at unaffordable prices, even though the research in the main is carried out using the government fund and the authors and reviewers of the paper are not paid for their work. Only a united action of scientists, researchers and academics can free the scientific knowledge from the vice like grip of the profit motivated publishing industry. Dr. Soumitro Banerjee expressed confidence that the younger generation will rise up to the occasion to catalyse this change.
Dr. P.S Babu, president, BSS Kerala chapter while participating in the discussion emphasized the need for developing an international movement to make knowledge free. The webinar was organised in the background of the ongoing litigation in the Delhi High Court pertaining to the prayer by the publishing firms for a ban on the operation of Sci-Hub and Libgen in India. Mr. George Joseph, secretariat member of BSS presided over the function. Dr. Sreekumaran, executive committee member, BSS moderated the discussion.
Webinar: A brief history of exoplanets: from their discovery to present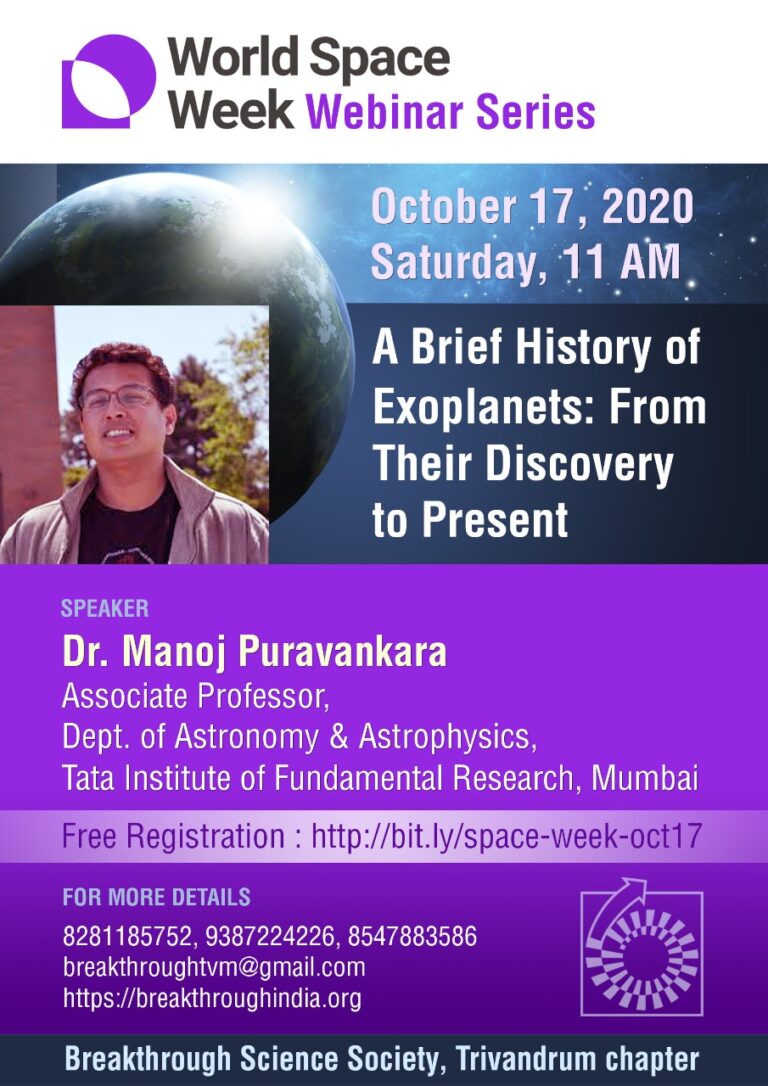 We would like to invite you to attend the following webinar organised as a part of 'World Space Week Webinar Series'.

Topic: A brief history of exoplanets: from their discovery to present
Speaker:Dr. Manoj PuravankaraFaculty member, Dept. of Astronomy & Astrophysics,Tata Institute of Fundamental Research, Mumbai 
Date and time: October 17, 2020, Saturday, 11 AM
For free registration please visit:https://docs.google.com/forms/d/e/1FAIpQLSezJ4b_Nh-2UsOTTGd_gMCuMq5hFpJTjh3ZFfdaEcq5AVjVJQ/viewform

Organized by
Breakthrough Science Society, Trivandrum Chapter