State Chapter News
Homage to Dr V Shanta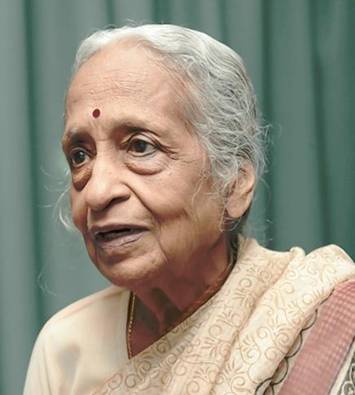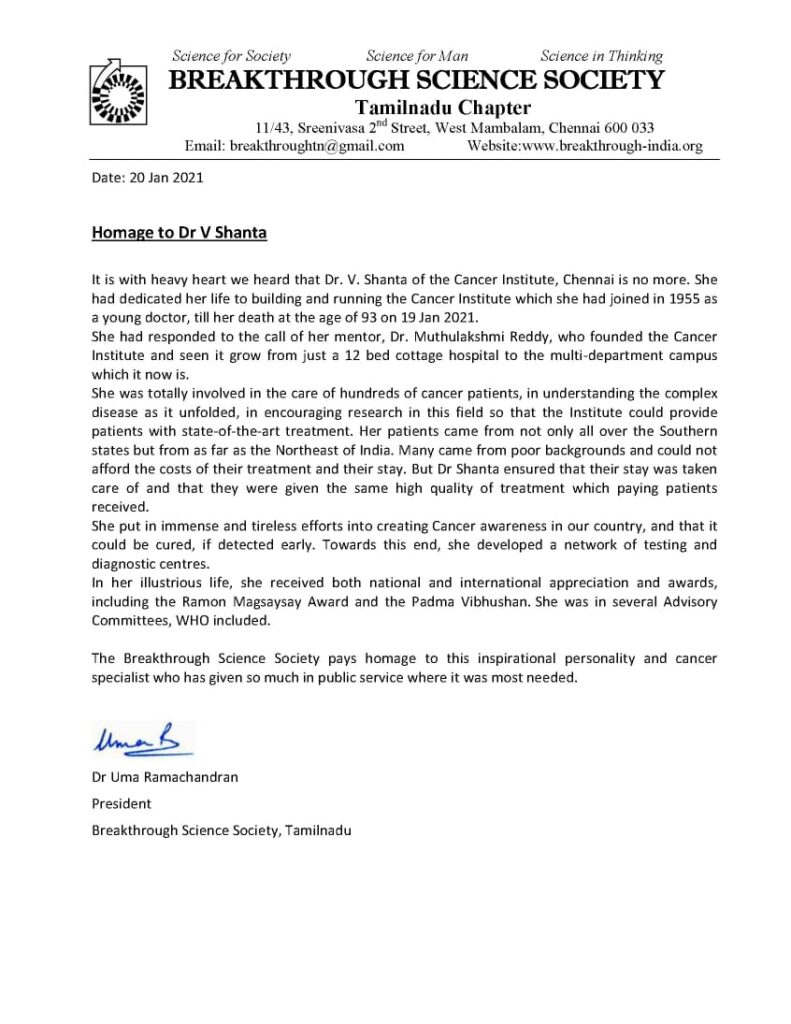 Please CLICK HERE to read
History of Science: Webinar series organised by BSS TN chapter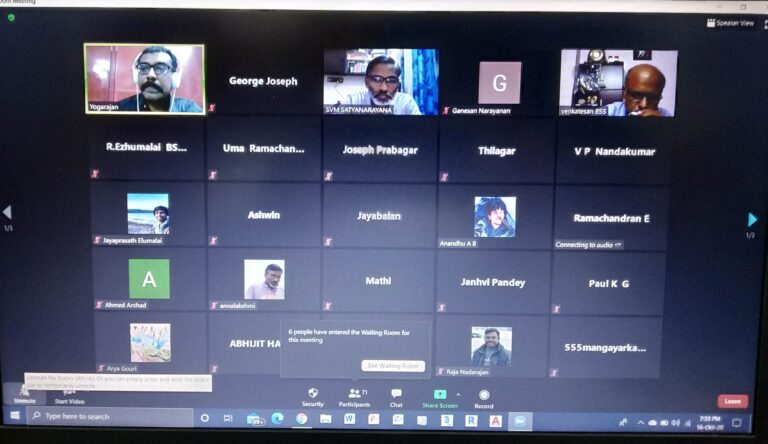 Breakthrough Science Society, Tamil Nadu chapter has been conducting a series of talk cum discussions every week on the history of science based on the chapters in the book "A Brief History of Science" published by the Breakthrough Science Society. The 15th session was held on Oct 9, 2020. The topic was 'The development of Quantum Mechanics' and the speaker was Dr S V M Satyanarayana, Dept of Physics, Pondicherry University.
The talk can be viewed at the following link:
Other talks in the series also can be viewed on the Facebook page: bsstamilnadu chennai
Covid 19: The source of origin and types of Indian SARS-CoV-2 – Webinar organised by BSS Tamil Nadu chapter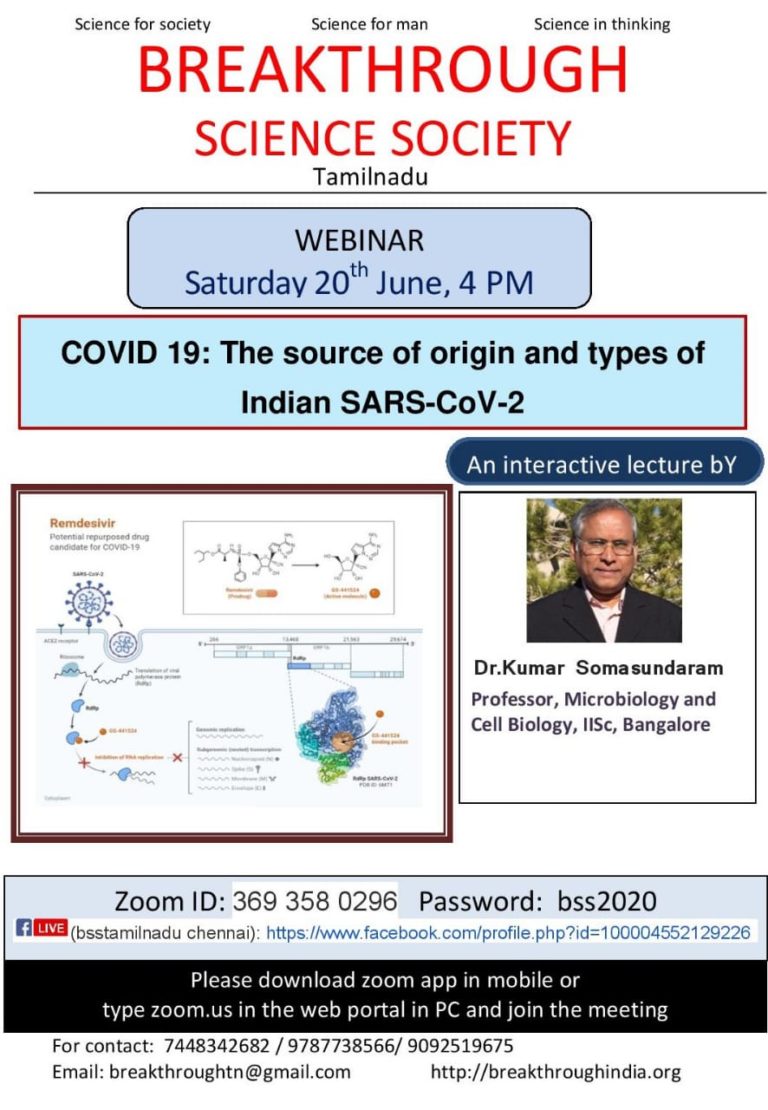 BSS Tamil Nadu chapter – Webinar: 'Mountains on Moon – How to see and measure their heights'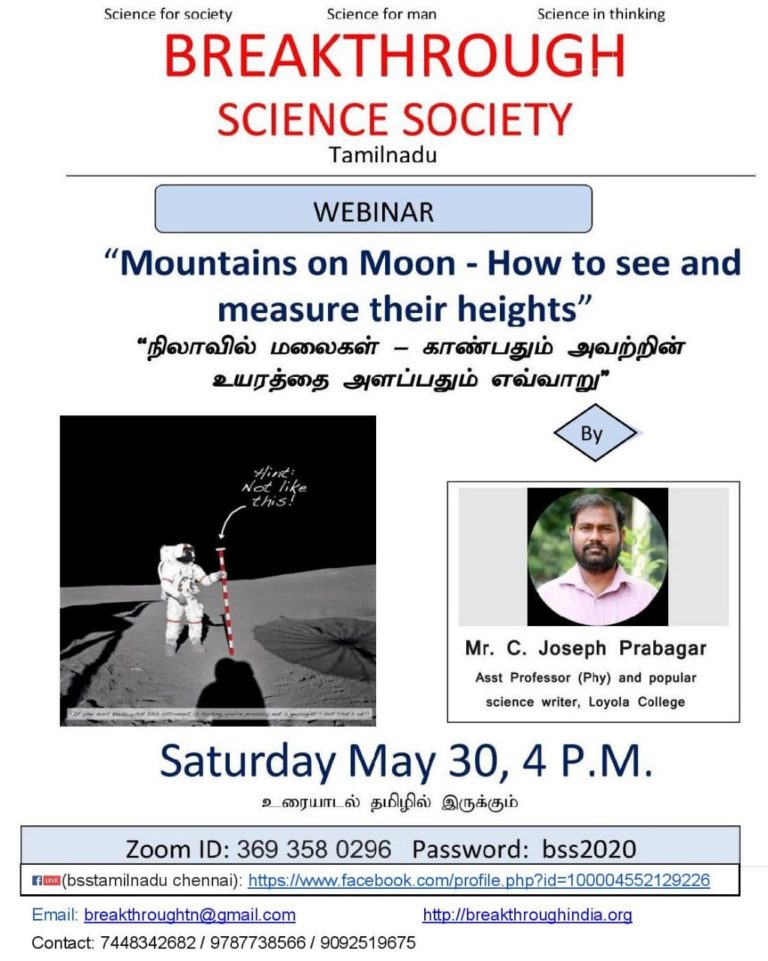 Webinar: 'Impact of Climate Change on Biodiversity' organised by BSS Tamil Nadu chapter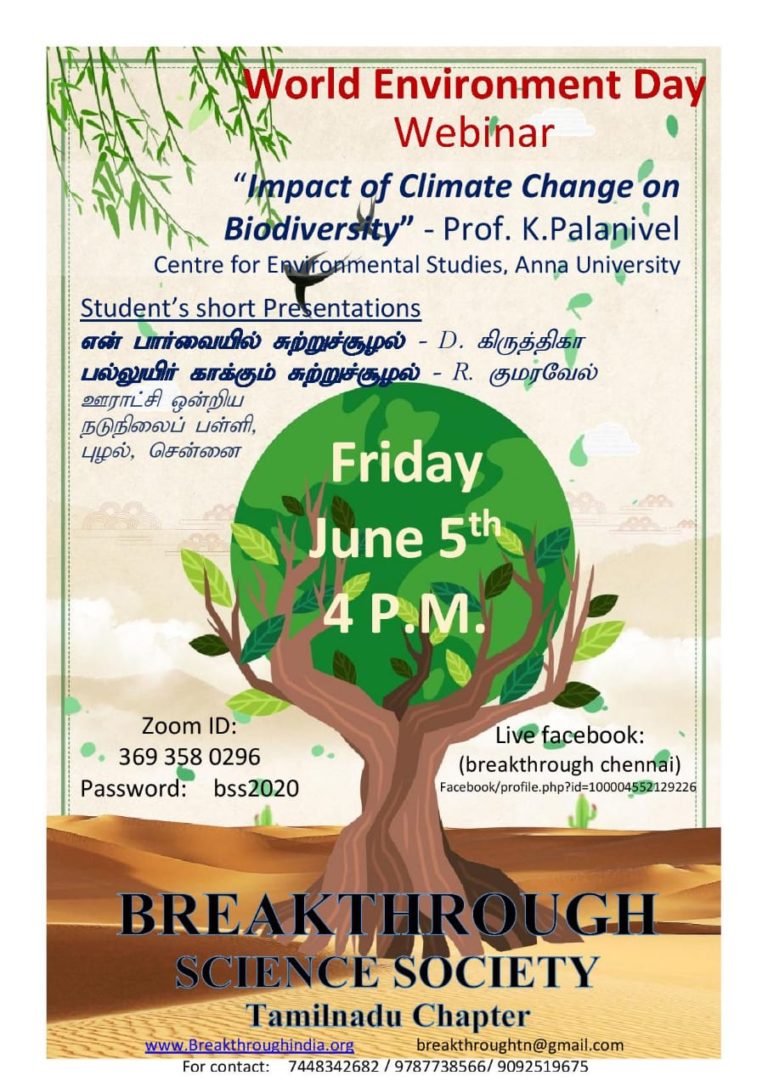 Webinar: 'Louise Pasteur and Vaccination – An Overview' organised by BSS Tamil Nadu Chapter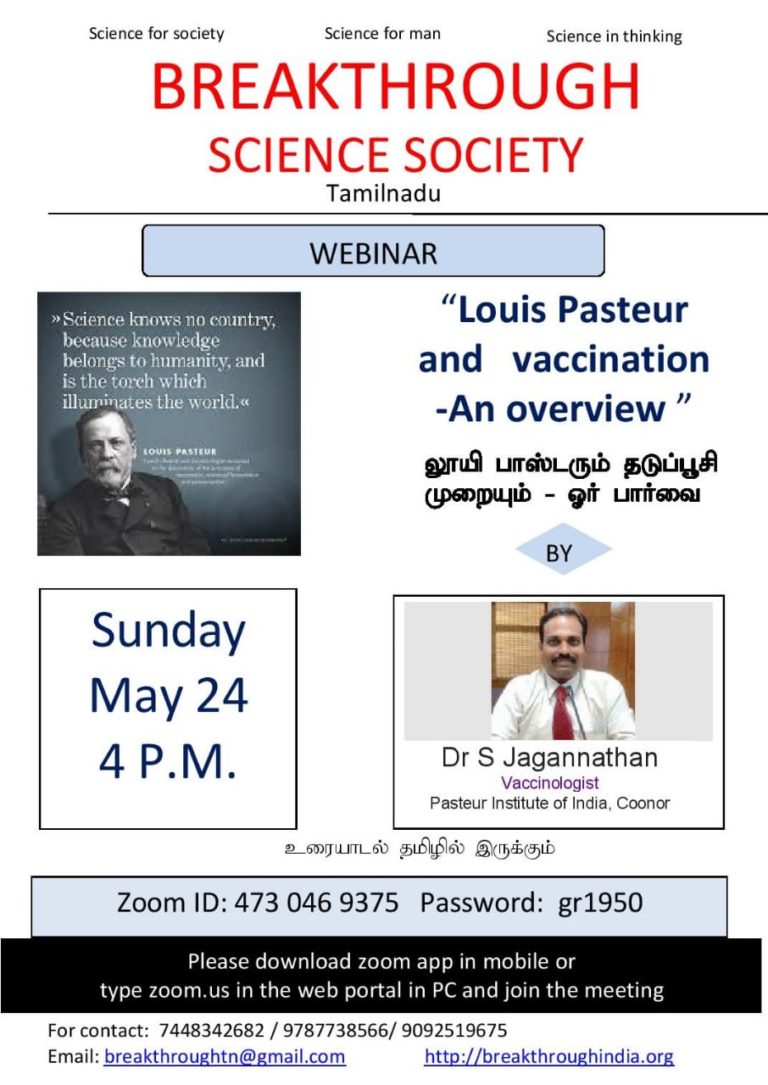 Breakthrough Science Society, Tamil Nadu chapter is organizing a webinar titled 'Louise Pasteur and Vaccination – An Overview' by Dr. S. Jagannathan, Vaccinologist,  Pasteur Institute of India, Coonor on May 24, 2020, Sunday, 4 PM. Details are given in the flyer.
Webinar on 'The Wave-Particle Duality of Matter'
BSS Tamil Nadu Chapter -National Science Day Observance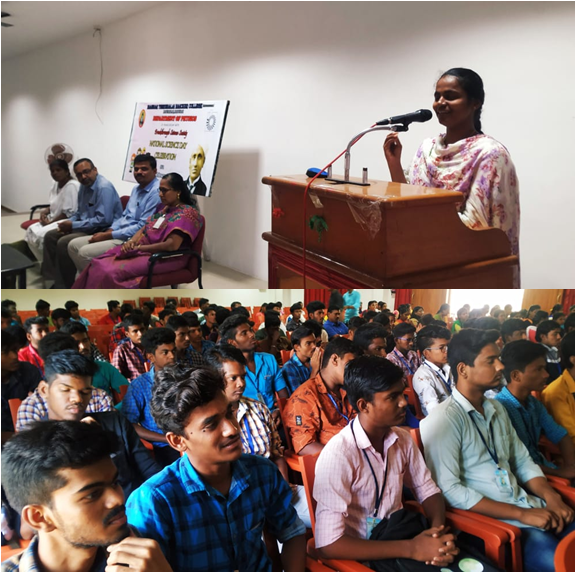 An inter-collegiate students meet was organised in Madurai on the occasion of the National Science Day in association with the Dept of Physics, Mannar Thirumalai Naiker College. Ms Selvi, convener, BSS Madurai welcomed the gathering. Dr. Krishna Kumar, Thiagarajar college, spoke on 'Women in Science'. Dr.Latha, Madura College, presented a motivational talk. Students from 9 colleges participated in the program. A skit on Bruno was performed by the participants.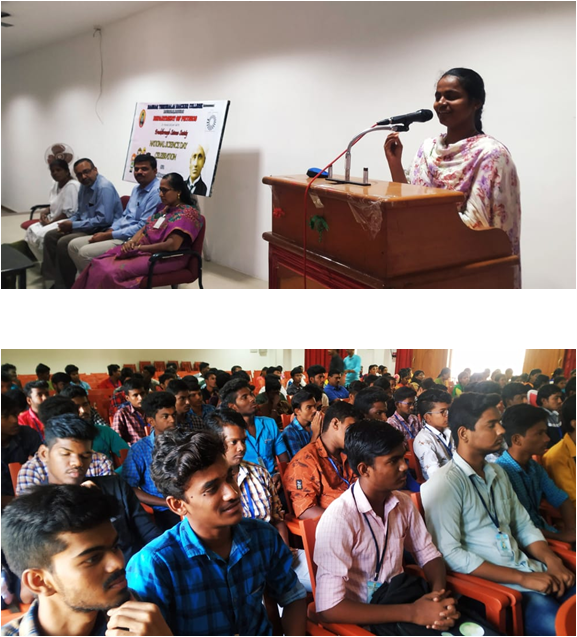 In Coimbatore, a public program was organised in a free tuition centre near the Town hall. Mr Vignesh, the local organiser of BSS gave an introduction about the National Science Day. Mr Sivakumar M, spoke about the necessity of cultivating scientific outlook in day to day life. Mr Sabari, a student of PSG College, made a presentation on science model making. A movie clip on Sunita Williams was also shown.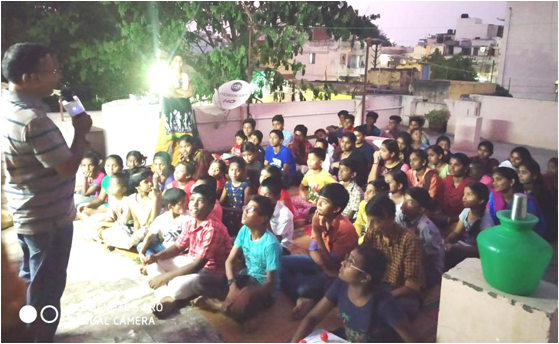 National Science Day was observed at Govt High School, Mambalam, Chennai. The program was inaugurated by the HM, Dr Seethalaxmi. Mr Ilango Subramanian, a science communicator explained the Raman effect and the life of C V Raman. Dr S H Thilagar, Vice President, BSS Tamilnadu spoke about the life of a few illustrious women scientists from India and abroad. Mr Sivakumar gave the vote of thanks.