Please CLICK HERE to read the leaflet.
First state level science conference organized by Breakthrough Science Society, Andhra Pradesh was held in Anantapur on 25th and 26th of March 2023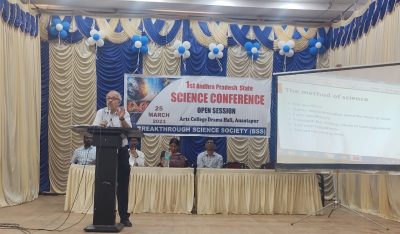 The open session of the conference was held on 25.03.23 at 2.30 pm at the Drama hall, Government Degree College (Autonomous) Anantapur. More than 350 students, teachers and lecturers from different colleges and schools attended the program. The program was inaugurated by Dr. A.C.R.Diwakar, the Principal of government Degree College (Autonomous) Anantapur.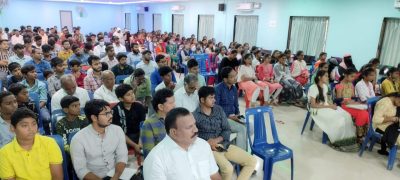 Dr. Asha Lata, Associate professor of pharmacology, Government Medical College, Anantapur, gave a talk on "Anti-microbial resistance: Post-COVID scenario". Prof.Soumitro Banerjee, the chief guest of the program spoke on "What is the method of science". The other speakers were Mr. Anand Raj, Working President, BSS, Karnataka and Dr.R.Gangadhar, president, BSS, Telangana.  The delegate session was held at KSN Women's Degree College Anantapur on March 26 at 10:00 am. The session was inaugurated by Dr.Sankaraiah, Principal, KSN Women's Degree College. Prof.Soumitro Banerjee, General Secretary, All India Committee, Breakthrough Science Society (BSS), spoke about the important aspects that would be deliberated in the session.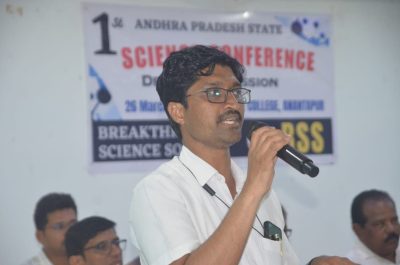 Later four resolutions were placed for discussion. They were: 1. On the framing of anti-black magic act;  2. Calling for more funds to scientific research and education; 3. Spreading of scientific temper among the students and the general public; 4. Taking steps to protect the environment. These resolutions were passed by the delegates. Mr.Anand Raj, Working President, BSS Karnataka, and Dr.R.Gangadhar, President, BSS, Telangana were present as invitees. Dr. R.Gangadhar, State president of BSS, Telangana, placed the panel of state committee members before the delegates and was supported by the delegates by voting in favour of it. 184 delegates attended the delegate session