Observance of 'The International Day of Women and Girls in Science'
Panel discussion and interaction with students organised by BSS Trivandrum chapter
To promote "full and equal access to and participation in science for women and girls", 'International Day of Women and Girls in Science' is being observed on February 11 since the year 2016, based on the declaration of the United Nations General Assembly.
Breakthrough Science Society recognizes the importance of this observance and takes this as an opportunity to spread the message of gender equality and also to commemorate the great women scientists who contributed significantly to the development of Science.
This year, in addition to various competitions for school and college students, we plan to organize a panel discussion followed by an interactive session in which students representing various institutions will have the opportunity to interact with a panel of scientists on 13th February, 2022 at 10.30 AM on topics centering around the theme 'Women in Science'.
Panelists :
Prof. Hema Somanathan
Indian Institute of Science Education and Research (IISER), Thiruvananthapuram
Dr. Manoj Puravankara
Tata Institute of Fundamental Research, Mumbai.
Dr. Resmi L
Indian Institute of Space Science and Technology (IIST), Thiruvananthapuram
YouTube link to watch the recordings of the programme :
https://youtu.be/QDFlxNa8zSQ

Breakthrough Science Society
Trivandrum Chapter
Contact :8289847088, 9400010810
https://breakthroughindia.org
Programme organised by BSS Kottayam chapter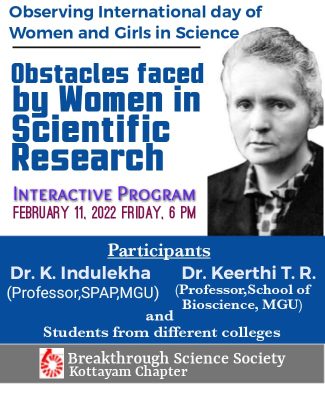 Programme organised by BSS Alappuzha chapter