The 2nd state level Science Conference organized by Breakthrough Science Society, Karnataka was held in Raman Research Institute, Bengaluru on 18 Feb 2023.
The program began with the inauguration of science exhibition followed by a talk by Prof. Mahadevan, Retired Professor, IISc, Bangalore. He encouraged participants to celebrate science against unscientific ideas and follow ethics in science. He also appreciated BSS volunteers for their enthusiasm to organise events that help to connect science and society and also their quick response to issues such as Panchamahabutas, Indian Knowledge system calendar etc. which propagate unscientific ideas.
Dr.T.V.Ramachandra, Department of Ecological Sciences, IISc Bangalore, delivered a talk on 'Global warming and its impacts'. He explained the importance of having alternatives for fossil fuels as they are important contributors to global warming. He also insisted on imparting Environmental Education to all. Due to various human activities and forest degradation we are observing reduced rain falls, flash floods etc. He presented scientifically the adverse impacts of the unplanned urbanisation in Bangalore. The loss of interconnectivity between lakes has tremendous adverse effects such as increased heavy metals in the lakes. He stressed the need for rejuvenating the lakes and the importance of water bodies.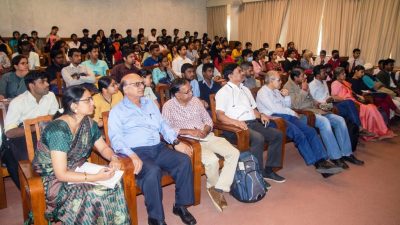 Dr.Ashish Verma, Department of Civil engineering, IISc Bangalore gave a talk on Transportation engineering for sustainable development. He discussed about long term solutions for traffic congestion and encouraged the use of public transport, dedicated lanes for public transport and more infrastructures for sustainable modes. He said that research should be based purely on evidence and scientific logic.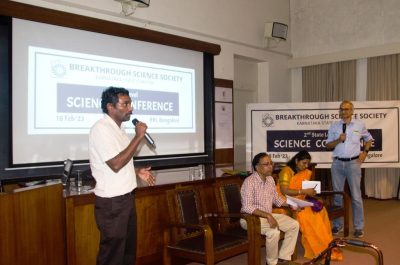 Prof Prajwal Shastri, Astrophysicist, Professor Emeritus, RRI Bangalore discussed about gender gap in higher education and research. She spoke about the unscientific practices that cause gender gap in research.

Dr.Sumati Surya, Raman Research Institute, Bangalore, spoke on the role of science in society and the role of society in science.
Prof.Soumitro Banerjee, Professor, IISER Kolkata; General Secretary, All India Committee, Breakthrough Science Society said that science is a way of thinking and stressed the need to take this thought process to the people at large. He also emphasized that one should not believe in anything without evidence.
The Delegate session was held in the afternoon which passed resolutions on "Scientific Temper, Science Learning & curbing unscientific ideas" and "On preserving Environment and Ecological biodiversity" with a presidium consisting of Prof. Jayant Murthy, Ms Shakuntala and Mr Shivakumar. The Secretary's report on the activities was placed by Ms Dipti. New committees were elected for the Karnataka State and Bangalore District. The conference came to a close with a talk by Prof. Soumitro Banerjee on the 'Vision for Science Movement in Karnataka' and this was followed by a vote of thanks by Mr.Anand Raj.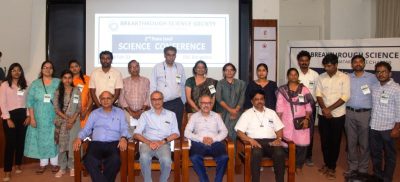 Elected Body
Karnataka Chapter
Advisory Board;
Prof. Shishupal, Dr.T V Ramachandra, Dr. Ashish Verma, Mr. Mauryan
President
Prof.S. Mahadevan (Retired Professor, IISc Bengaluru)
Working President
Mr. Anand Raj
Vice President
Prof. Jayant Murthy, Dr. Ramesh Londonkar, Mr. Amruth K K, Ms.Deepa, Mr.Vilas Rathod, Mr.Shivakumar Murugesan, Mr.Amjad Syed
Secretary
Ms.Dipti B
Joint Secretaries
Ms.Shreeya (Bangalore), Mr.Niranjan Hiremath (Mysore)
Executive
Shakuntala (Bangalore), Rashmi Rajgere (Gulbarga), Santosh Kumar (Davengere), Namrata (Bangalore), Gururaj (Dharwad), Saroja (Dharwad), Praveen (Bijapur), Beeru (Dharwad)
Council
Harish (Gulbarga), Anjana Bangalore), Yashaswini (Bangalore), Shubham (Gulbarga), Gowri (Gulbarga), Charisma (Bangalore), Vrushank (Mysore), Dr. Rita Puneet (Dharwad)