A seminar was organised on 'Darwin's Theory of Evolution and Indian Knowledge System
at Vivekananda degree college, Hyderabad on 11 May 2023.Dr. Manbendranath Bera,
profesor at IISER, Mohali was the main speaker. He spoke about the Indian Knowledge
system and how unscientific things are being incorporated into the text books in recent
times. He also said that the removal of Darwin's theory from text books is a dangerous
move by the NCERT. Dr.Sowjanya, HoD, Department of life science also spoke.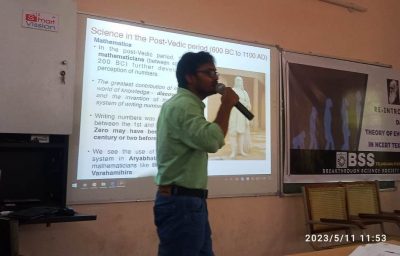 At the end of the seminar, an MoU was signed between Vivekananda College Science
department and Breakthrough Science Society, Telangana state chapter.
Mr.D.Gangaji, Mr.L.Sarath, Mr.Nagaraju organised the seminar.