In West Bengal, the Science Day was observed extensively by organising various programs in schools, colleges and public places in different districts of the state. The programs were organised by the BSS chapters as well as by a number of science clubs affiliated to BSS. Reports from various districts follow.
Kolkata: The day was observed in Jadavpur University, Calcutta University (Rajabazar Science College), Jogamaya Devi college and Charuchandra college. Observations were also held in Hindu School, Aryakanya Mohavidyalaya and Victoria high school under the initiative of "Young scientist forum" affiliated to BSS and in two main spots of Kolkata – College street and Hazra More.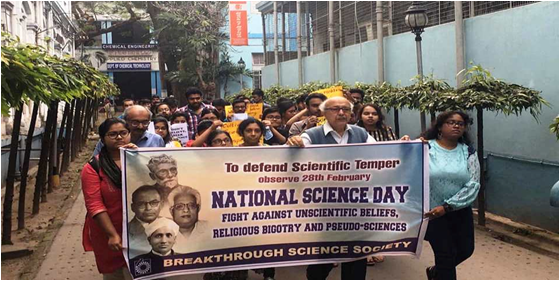 East Medinipur: The day was observed in Panskura Banamali college, Panskura High School,Tamralipta, Mahavidyalaya, Jukhiya K N Banimandir, Mugberia Gangadhar college, Haldia Dalimbachak Technical High School, Punarbasan High School, Egra college, Bajkul college, Panskura Science Centre, P C Roy science society and Ramnagar science society.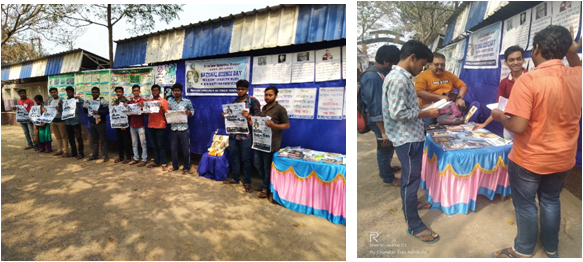 In Panskura Banamali college, quotation and poster exhibition, book stall and badge wearing were organised.

In Panskura Girls High School, anti-superstition program and slide show were organised by the members of Panskura Science Centre. Rivu Maji and Chandan Das Adhikary are seen conducting the demonstrations.

National science day observed in Madhuri Kalyanika Vidyabhaban, Tamluk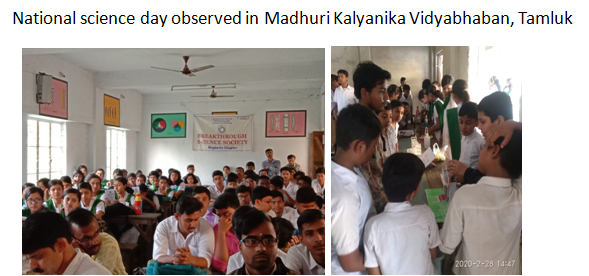 National Science Day observed by BSS, Mugberia Chapter at Jukhiya K N Banimondir. Science Model Exhibition was inaugurated by the Head Master Mr Kishor Kumar Das.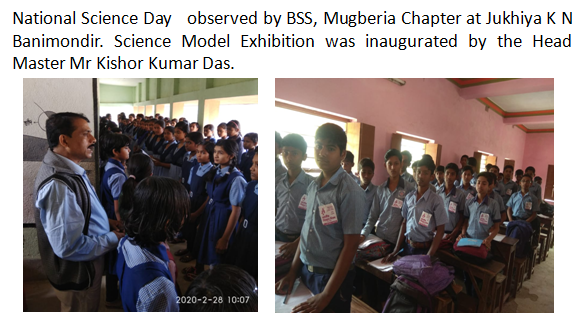 Jalpaiguri: National Science Day was observed in Central Girls High School, Fanindradeb Vidyalaya, Ananda Chandra college under the initiative of 'Light of Science' affiliated to BSS. A seminar was organized in Netaji Subhash foundation hall on the topic 'Evolution of scientific thought in the present context'. Dr Apurbalal Senapati was the speaker.
Darjeeling: The day was observed by Marie Curie science club. A seminar was organised in North Bengal University on the topic 'Corona virus' and 'History of Science in India'
South 24 Parganas: Science day programs were organised in Dimond harbour High School, Kakdip Sundarban Adarsha Vidyalaya, Dharapara High School, Ghoradol High School and Krishna Nagar High School. A discussion was held in Radhakantapur in the presence of Shri Kingsuk Halder of BSS.
Paschim Bardhaman : The day was observed in Hirapur Manikchand Higher Secondary School, Eastern Rail High School and Assansole Girl's college under the initiative of S N Bose science club.
Purulia: National Science Day was observed in 27 schools. Also observational programs were held in Sidho Kanho Birsha University and Raghunathpur college.